FIND MILLIONS IN MISSED PREMIUMS WITH EMBEDDED INSURANCE.
JAUNTIN' enables insurers to piggyback off of third-party sites, products, and services helping you unlock a new revenue channel.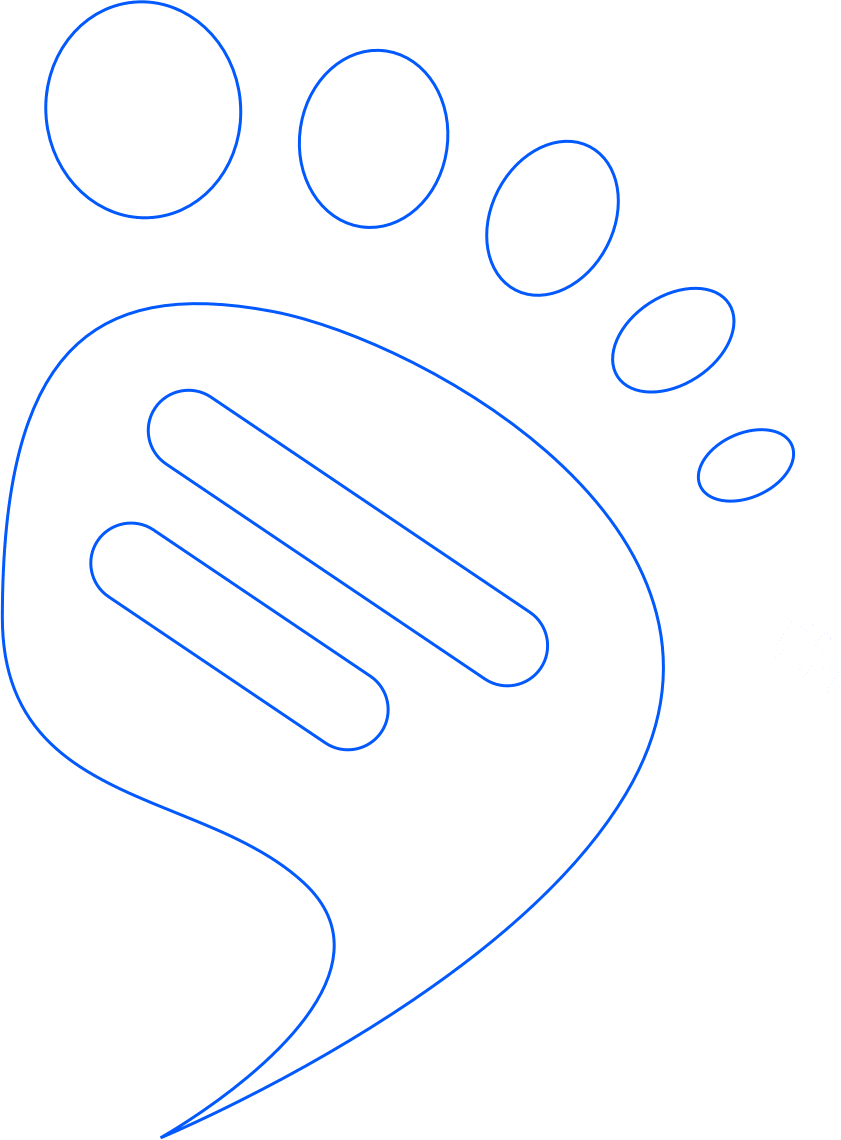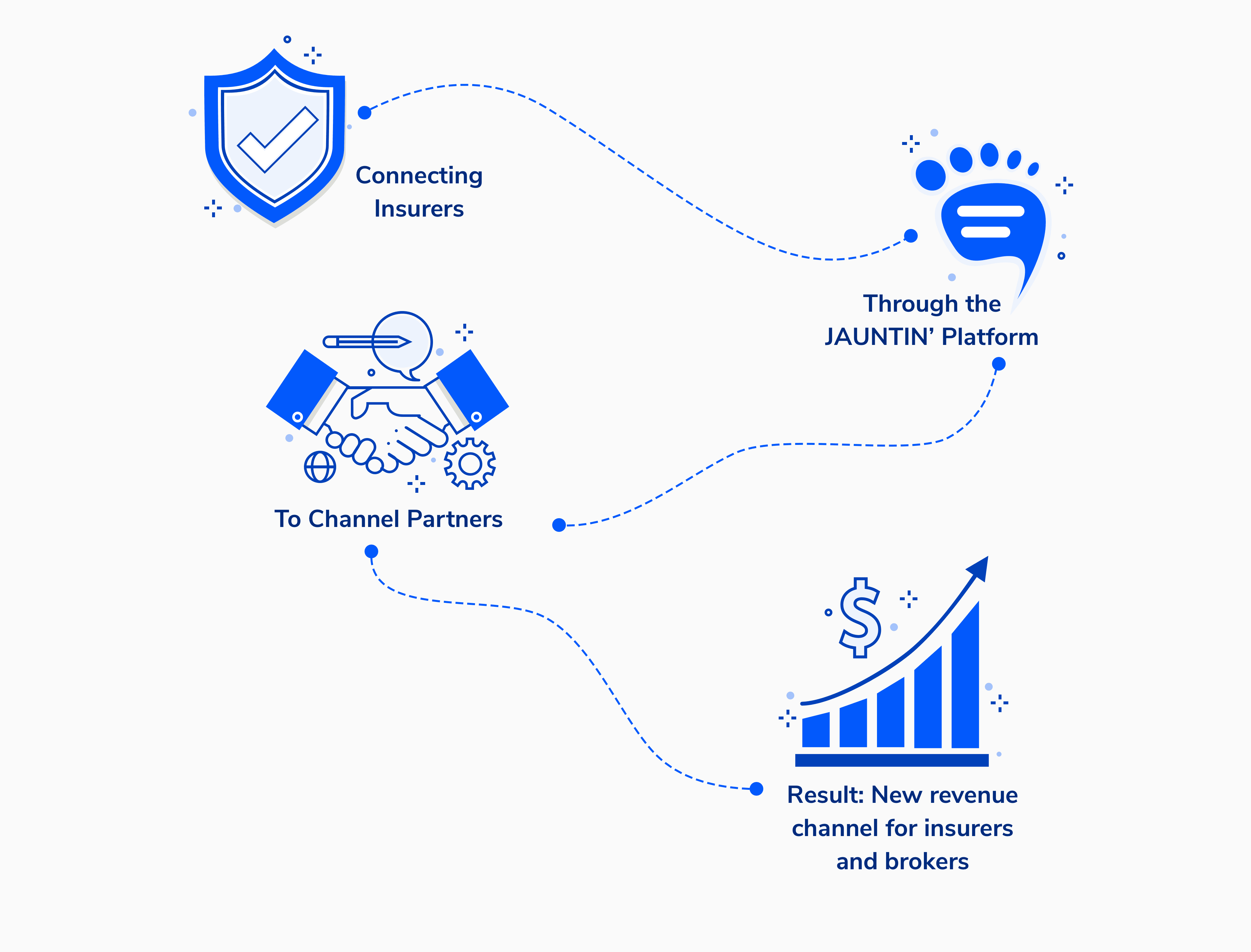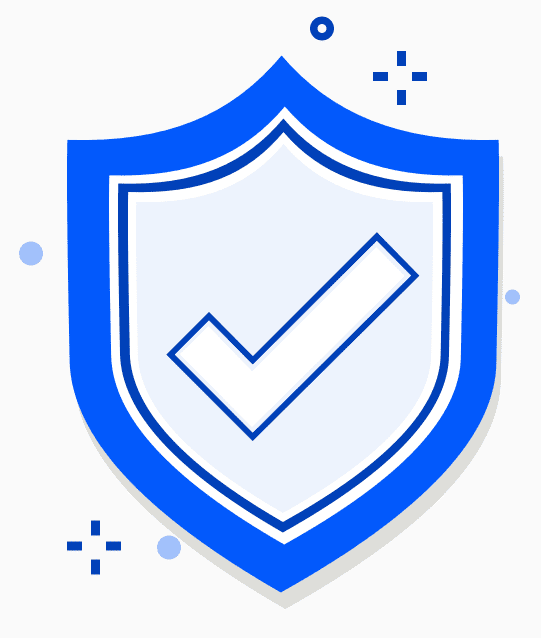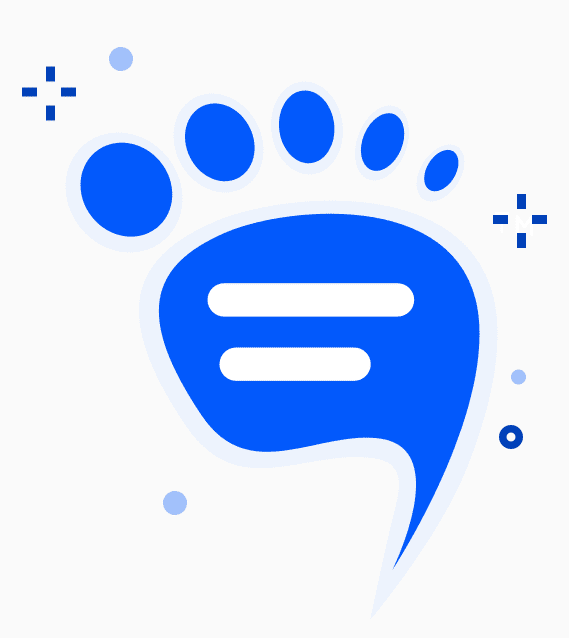 Through the JAUNTIN' Platform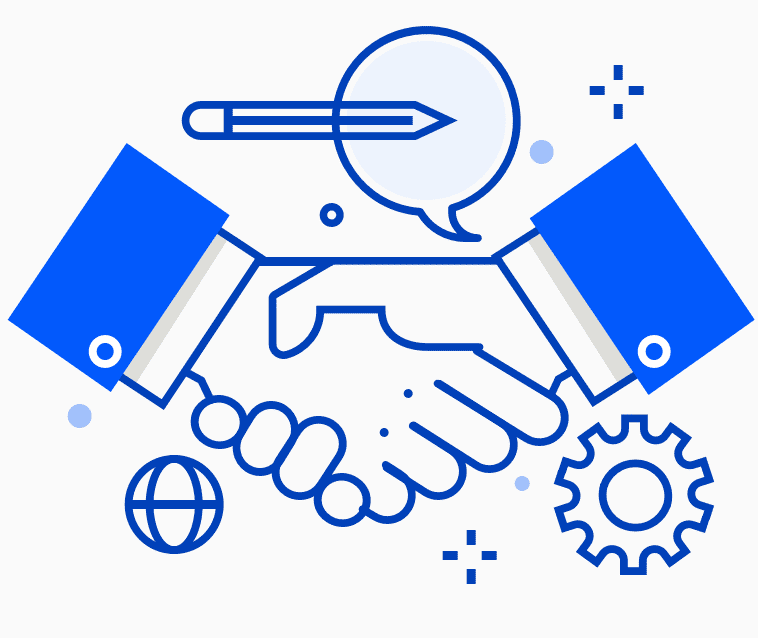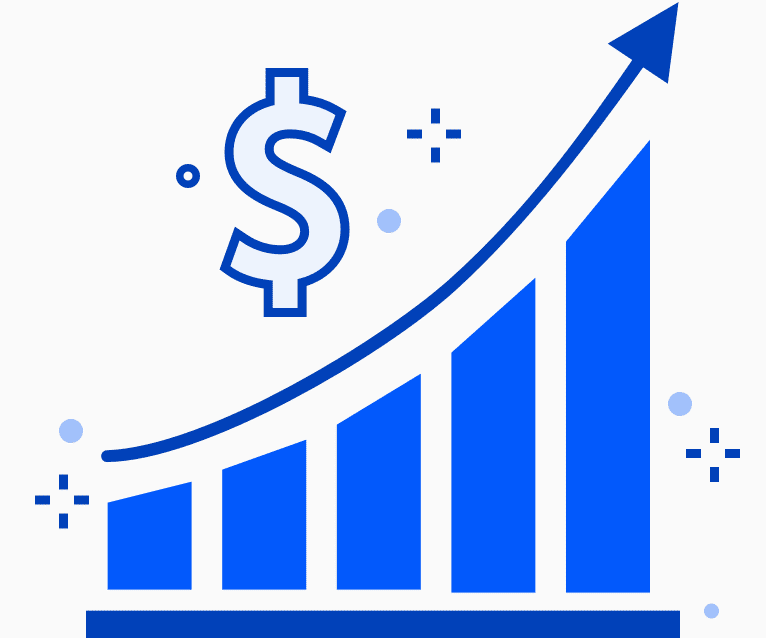 Resulting in new revenue channel for insurers and brokers
WE ARE A FULL SERVICE PLATFORM
We work with insurers to identify which products are a fit for third party platforms, products, and services. We then digitize those insurance products and embed them into the third-party partners. All you need to do is send us your pricing, policy documents, and underwriting criteria and we'll take care of the rest.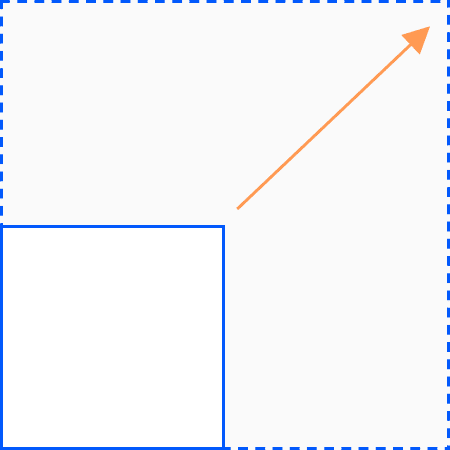 BUILT TO SCALE
API first to make scaling easy.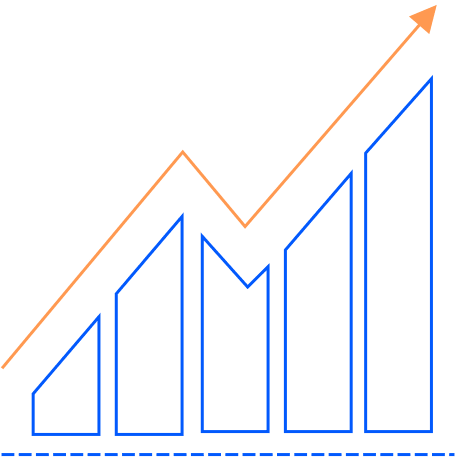 CHANNEL DEVELOPMENT
Existing channel partners to get you immediate results.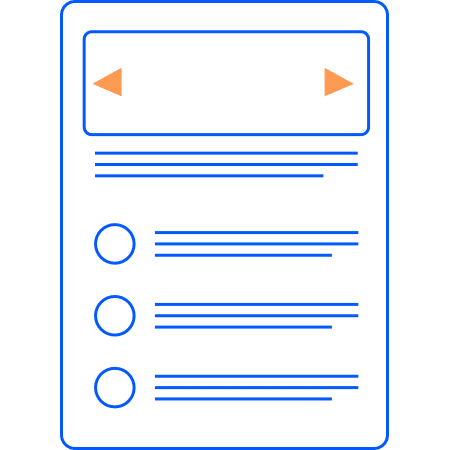 WE ALSO HANDLE
Strategy, consulting and design.
We focus on niche and underserved products.
We provide various micro services that enable our partners to pick and choose where we can add the most value.
We white label our platform to the insurers' brands.  We believe in leveraging the existing brand equity of our partners.
We love insurance carriers, brokers and agents alike.  Our platform is designed to be inclusive of all parties because we believe brokers and agents still provide a lot of value in the digital age.
Not just tech.  We bring large channel partners to the table as well.
Our HQ is in Silicon Valley North, also known as Toronto, Canada.  We also have subsidiaries in the U.S. with plans to expand further internationally.
Without giving away too many secrets, here is a general outline of how things work with us.
We work with insurance companies to identify insurance products that are ideal for embedding.  The final product(s) are usually influenced from our existing channel partners or through research/case studies conducted by the insurer, JAUNTIN' or both.
Once the insurance products are identified, JAUNTIN' digitizes the insurance products so they can be distributed on a short term basis (if possible) and quote, bound and issued 100% digitally.  In parallel, we continue development on the channel partner side, alongside developing a longer term strategy on where the insurance products will be embedded.
Once the product is digitized, we work with the third party partners to embed the insurance products the way it makes most sense.
Once fully embedded and live, JAUNTIN' manages the platform to ensure it's running smoothly through constant monitoring, logging and infrastructure management.
No, JAUNTIN' is a tech platform which partners with insurance companies to enable real time on demand and embedded insurance products. We automate the quote, bind and issue of insurance policies with a focus on niche areas like special events insurance, snow plow insurance, gig worker/freelancer products, and others.
According to Insurance Thought Leadership, embedded insurance is like the French fries of a meal deal; offered as part of another transaction at the moment of need or just included in the product or service of a third party.  The most famous recent example is Tesla offering car insurance as part of the vehicle purchase process.
Below are some other examples:
Snow plow insurance that is included as part of a professional association's membership fees
Event insurance that is offered at part of an online planning tool or rental agreement
Business insurance that is included as part of setting up a new business entity
Embedded insurance is ideal for insurance companies that have products that compliment third party products/services or the purchase path of third party platforms.
The definition of digital insurance has evolved over the decades, from simply being able to compare prices on a website all the way to the ability to get an hourly insurance policy from your phone.  At a minimum, for insurance to be considered 'digital' in this day and age, the insurance product must be able to be quoted, bound (user pays for it online) and issued (policy documents are sent to the user, usually via email) all digitally without the need to correspond with an agent, broker or personnel of an insurance company.
Accessibility – Digital and embedded insurance makes insurance products more accessible and affordable to a larger pool of the population that previously could not access or afford insurance coverage.
Cost Control – Digital and embedded insurance provides policyholders with more control, allowing the policyholder to better plan for insurance related costs and even tie insurance related expenses to planned/upcoming revenues.
Flexibility – Digital and embedded insurance enables insurance products to be more flexible instead of the traditional annual policy that doesn't change throughout the year.  One of the building blocks of embedded insurance is enabling the insurance products to be distributed on a short term basis.
Speed – Digital and embedded insurance allows users to get coverage quickly, instead of having to wait weeks for coverage.  This allows users to get protected sooner, enabling them to take on new types of opportunities that require quick commitments, such as gig workers/jobs that usually happen 'on demand'.
In this day and age, there really is no reason that an insurance policy can't be available digitally.  To remain competitive, we believe insurance companies need to make their insurance product more accessible and more easily available.  According to Insurance Thought Leadership, the protection gap, or the lack of access to the right insurance coverage at the right time, continues to widen each year.  The only way to close this gap, while allowing insurers to maintain profitability is to digitize and embed insurance.
Digital insurance distribution is the ability to fully quote, bind and issue insurance policies digitally over the internet.  By allowing users to get insurance themselves over the internet, it significantly reduces distribution costs and enables more flexibility and accessibility of insurance products.
Quote or quoting is the ability to get a price or estimate for a type of insurance coverage from an insurance company (or representative like an insurance agent or broker).
Bind or binding is the confirmation that a policy is bound and in force (per the agreed terms) by the insurance company, which either involves a payment of premium or an agreement to pay the premium in the near future.
Issue or issuance is when the insurance company issues (or sends) the policy documents to the policyholder.  In the digital age, it usually happens via email alongside the binding in real time.
JAUNTIN' can work with almost any type of insurance product, however we have focused on niche products. Niche products we have experience with include: Travel insurance, snow plow insurance, special events insurance, dog walker insurance and others.  We believe niche insurance products are underserved overall and have the most potential when it comes to growth opportunities for an insurance company.
Specifically, if an insurance product is already digitized it is already halfway to being embeddable.
Yes. JAUNTIN' only white labels its platform and have no intention of becoming a customer facing brand.  We believe the best way forward is to leverage the existing brand equity of our insurance partners, brokers and agents.  The policyholder would never know an insurance product is being distributed on the JAUNTIN' platform (and we're okay with that!).
When it comes to digital and embedded insurance, insurance-as-a-service is when an organization (like JAUNTIN'!) provides an easy to implement insurance solution to another organization (like Grubhub) that traditionally wouldn't (and shouldn't) have insurance expertise.  Instead of the third-party spending months (even years!) trying to figure it out, they come to an organization like JAUNTIN' for a solution that can be implemented in months or even weeks.  In turn, this provides the third party with additional value that they can provide to their end customers, giving them a competitive advantage.
Insurance companies are provided with a customized portal which allows for easy access to policy holder information, alongside the ability to cancel/edit policies, manage agents/brokers, and resend policy documents to policyholders.
If you are a Grubhub driver, please see your Grubhub driver rewards section for more information.
If you are an individual or freelancer, you can get more information about our basic health benefits here.  We are also working on other products like accident, life and liability for gig workers and freelancers.  Stay tuned.
TULIP stands for Tenants' and Users' Liability Insurance Policy that provides special event liability coverage. It is used by venues that allow and/or rent their facilities to third parties for special events. It is ideal for users who do not normally carry a liability insurance policy (i.e. a couple getting married) and is offered on a daily or per event basis. It can also cover vendors, performers and exhibitors, depending on the insurance company. It protects both the event host (renter) and the venue against claims by others who may be injured or experience damage to property due to the event.
Events may range from low risk events such as business receptions and meetings, or weddings to high risk events including festivals, sports events, or concerts.